Owyhee Canyon Rim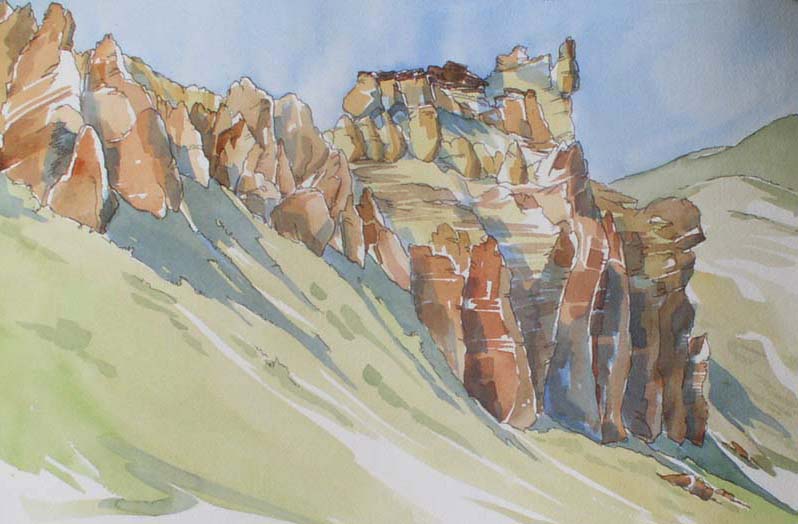 The Owyhee River runs through a remote area of Nevada, Idaho and eastern Oregon, cutting a deep canyon through Great Basin landscape.  This watercolor was painted on a rafting trip on the Owyhee, looking up at the panorama of colorful cliffs from one evening's camp.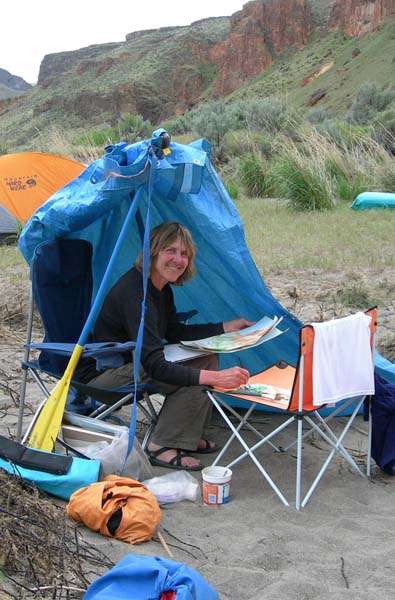 Painting in the wilderness is always an adventure.  Sometimes it rains and snows on a painting in progress. Other times the sun is so hot that the paints dry on the palette.  This photo shows the sun-shade I constructed from raft paddles and a tarp on the Owyhee.
Plein air watercolor by Kim Solga.
12 inches by 16 inches on Arches 140lb paper.
Original painting for sale: $295 with $10 shipping added for USA delivery (international customers, please email me kim.solga@gmail.com for shipping cost to your location).  Click the button below to purchase by credit card using the secure Paypal system.  Your new painting will be shipped to you within a few days.
If you wish to have me mat and frame the painting so it is ready to hang in your home or office, or to send as a gift, I am pleased to discuss the additional cost of framing, mat and frame options.
Click an icon below to share this painting…as a pin on Pinterest, a post on Facebook, Google+, Tumblr, Twitter and more… Thanks for sharing my work with your friends!