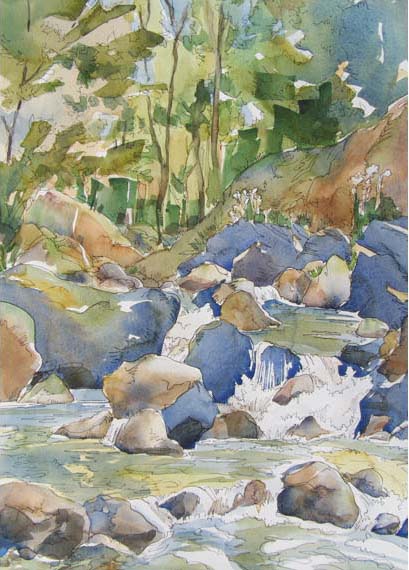 I fell in love with a mountain stream in Oregon's wild and scenic Rogue River wilderness. Crystal clear water flowing over mossy rocks. Rushing under fallen logs. The smell of wildflowers, trees, wet stones. Water scooter bugs in the pool. The fragrant breath of oak and madrone and alder. The green green shade of the creek bed.
This large plein air painting was created on location on 140lb. Arches cotton paper. It reflects the magic of an afternoon spent with the singing waters, filled with peace and wonder.
Plein air watercolor by Kim Solga.
12.5 inches by 18.5 inches on Arches 140lb paper.

Original painting for sale: $475.
Full sized limited edition print on watercolor paper: $175.
Please contact me for information on shipping costs (I recommend UPS insured delivery). If you wish to have me mat and frame the painting so it is ready to hang in your home or office, or to send as a gift, I am pleased to discuss the additional cost of framing, mat and frame options.