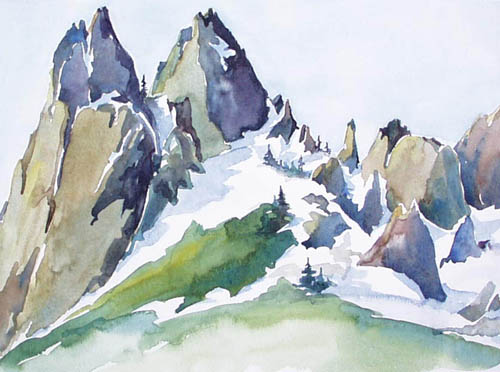 Cosmic Wall: Castle Crags Wilderness
Plein air watercolor.
8.75 inches by 12 inches on Cotman 140lb cotton CP paper.

The ancient granite towers of Castle Crags lie south of Mount Shasta above the valley of the Upper Sacramento River. They are a popular destination of rock climbers, and Cosmic Wall, shown in this painting, is one of the favorite routes. I painted this watercolor on location early one spring amid melting snowbanks, under the curious eye of of a raven in the pine branches overhead.

Click for Larger Image

The original painting is in private collection.

Limited edition archival inkjet prints for sale:
signed edition of 50, identical size and appearance as original painting:
$100 (unframed - professional matting and framing are available at additional cost).

Please email me for purchase details. kim.solga@gmail.com

This print available at my Etsy shop Blue Otter Art.

For more information about archival inkjet prints, see giclee prints.