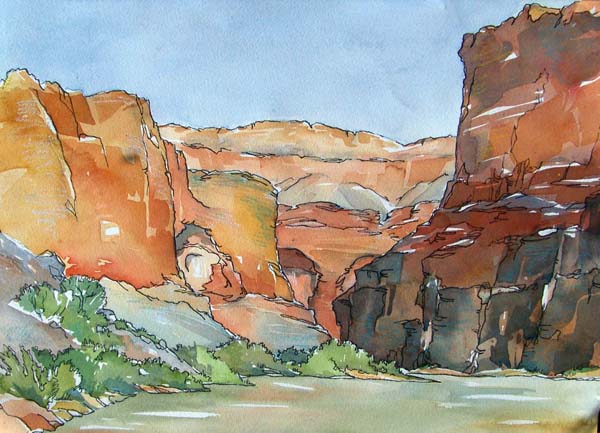 Click to view a larger image.
Several large alcoves are seen in the Redwall limestone just upriver from Saddle Canyon at mile 47 on a Grand Canyon rafting trip.  Saddle is a great hike for rafters, which gives the artist a chance to sit and paint for a couple hours on a bright fall afternoon.
Watercolor by Kim Solga, 12.5 inches by 16 inches on Arches 140lb cotton CP paper.
The original painting for sale: $300.
Please email me for purchase information and to figure the cost of shipping the painting to you (depends on where you live). If you would like to receive this painting ready to hang in your home or office, or to send it as a gift, I am happy to make this happen and discuss the additional cost for framing, mat options and frame colors.
Return to the Grand Canyon gallery.