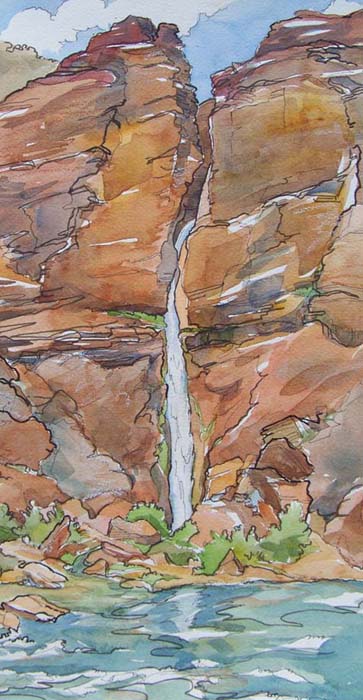 Deer Creek enters the Colorado River with a spectacular 200 foot waterfall, cutting its way through Tapeats sandstone down a narrow slot canyon.  You can hike up to the Deer Creek Narrows on a trail just downstream of the falls.
I painted the scene from across the Colorado River one hot autumn afternoon, waiting for our hikers to complete Thunder River loop and make their way down the Deer Creek drainage.  We camped that night at "Across form Deer Creek" camp and listened to the sound of the waterfall in our dreams.
Watercolor by Kim Solga, 12 inches by 16 inches on Arches 140lb cotton CP paper.
Original painting for sale: $350.
A full sized, limited edition print of the painting is available at my Etsy shop.
Please contact me for information on shipping, and on the additional and optional cost of framing, mat options and frame colors, if you would prefer to receive this painting ready to hang in your home or office, or to send it as a gift.
Return to the Grand Canyon gallery.