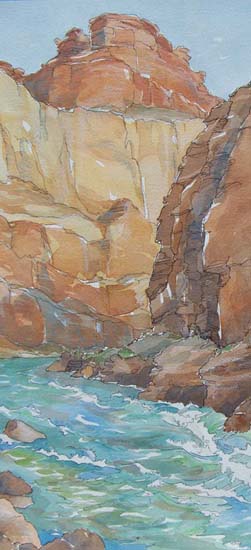 The Colorado turns a corner and tumbles past boulders from Tuckup Canyon at mile 164.  The rapid is also called Tuckup Rapid, a sweet read-and-run rapid rated 4 on the Grand Canyon scale.
This long, slender painting captures the vertical beauty of the Grand Canyon, from the tumbling rapid to the distant cliffs.
Watercolor by Kim Solga, 20 inches by 10.5 inches on Arches 140lb cotton CP paper.
The original painting for sale: $250.
Please email me for purchase information and to figure the cost of shipping the painting to you (depends on where you live).   If you would like to receive this painting ready to hang in your home or office, or to send it as a gift, I am happy to make this happen and discuss the additional cost for framing, mat options and frame colors.