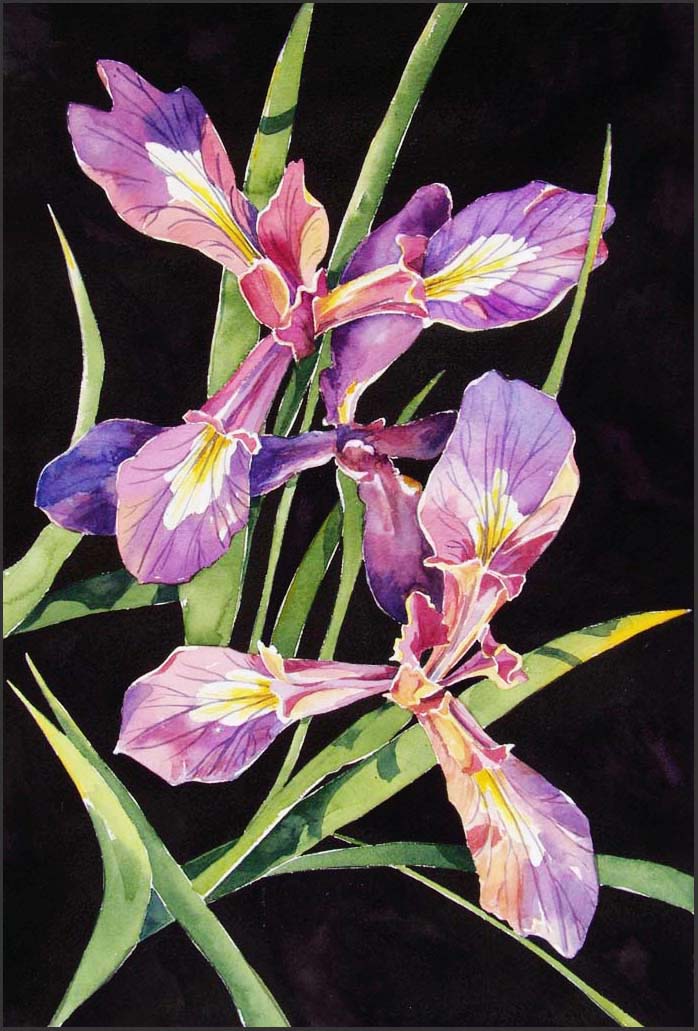 Walking in the woods, coming to a clearing in the forest, a meadow knee-high with grass and flowering shrubs, I see the wild iris, tucked in the shadows down near the rich earth, vibrant and trembling with purple glory.
I painted this watercolor from a photo of the wild iris. My painting capture the deep shadows of the tall grass, the bright sunlight sparkling on petals, and shadows criss-crossing the green spiky iris leaves.
Vibrant. Delicate. Wildflower!
Original watercolor by Kim Solga.
14.5 inches by 21.5 inches on 140lb watercolor paper.

Original painting for sale: $425.
Full sized limited edition prints are also available. $130
The print is reproduced from my original watercolor painting, signed and numbered by me, Kim Solga, in a limited Edition of 50 on textured Watercolor Paper. It's a big, lovely, luxurious print, a truthful replica of the original painting.
Image Size: 14″ x 20″  Paper Size: 16″ x 25″ $120
And a luxurious small print 8″ x 11″ is also available: $30
Please contact me for information on shipping costs (I recommend UPS insured delivery). If you wish to have me mat and frame the painting so it is ready to hang in your home or office, or to send as a gift, I am pleased to discuss the additional cost of framing, mat and frame options.