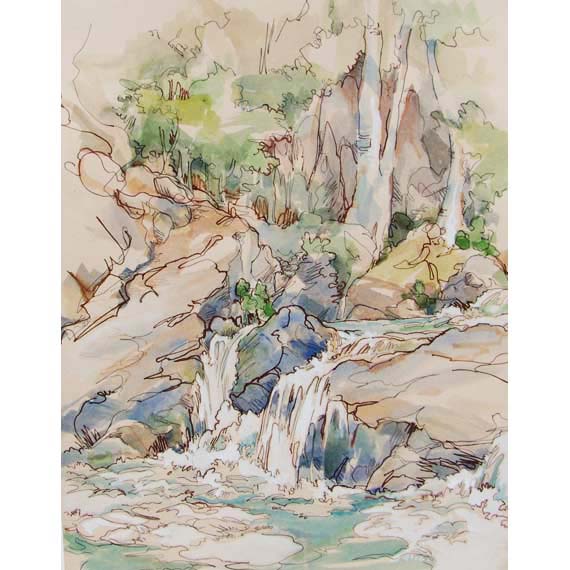 Ukanom Creek is a wilderness creek in far northern California, falling from the Marble Mountains Wilderness.
This wild mountain stream flows into the Klamath River, where I was rafting for five days with friends. We hiked from the river up the creek bed, leaving summer heat and sunshine for the shady coolness of the creek's rushing water.
There's a wonderful video of this remote wilderness setting, made by my friend CoyoteKen on Youtube. You will be touched, forever changed. It is amazing.
This delicate painting with pen and ink overlay has a haunting, Victorian elegance and honors the soul of the wilderness with it's fine details and delicate colors.
The paper is creamy Stonehenge, a traditional fine art 100% cotton fiber, acid-free paper with a smooth, flawless surface that is slightly mottled to resemble actual vellum.
Plein air watercolor by Kim Solga.
11 inches by 14 inches on Stonehenge cream.

Original painting for sale: $225.
Please contact me for information on shipping costs (I recommend UPS insured delivery). If you wish to have me mat and frame the painting so it is ready to hang in your home or office, or to send as a gift, I am pleased to discuss the additional cost of framing, mat and frame options.