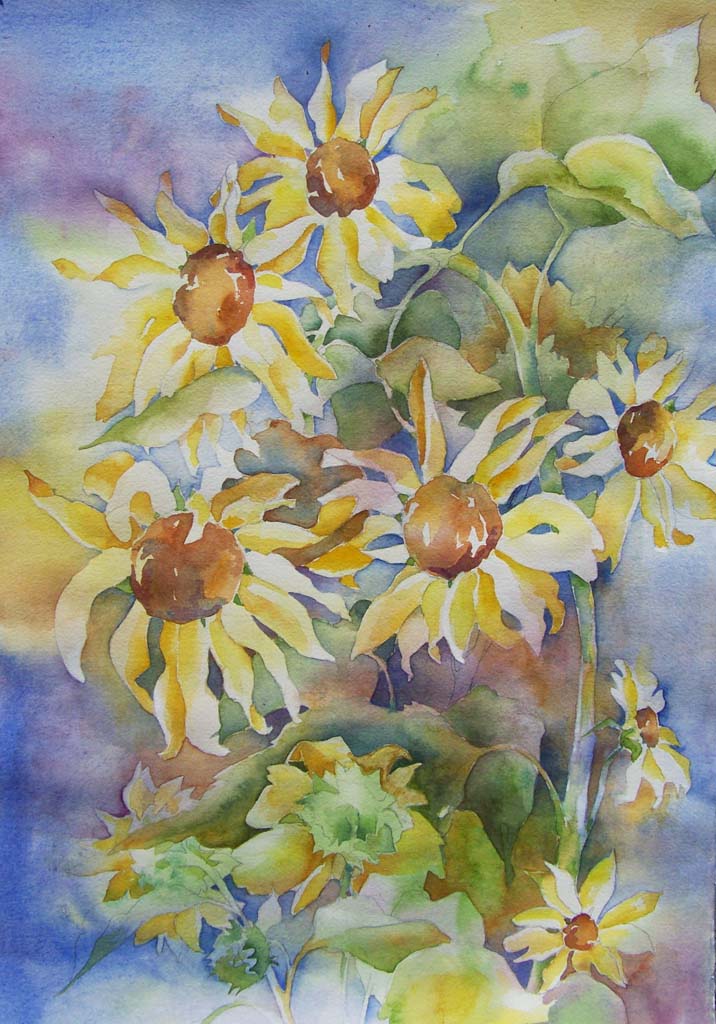 I love tall rows of sunflowers in my garden. Each year, the flowers I plant from seed packets turn to huge seed heads on their tall stalks, and become a feast for little birds. In their haste to feed, the birds inevitably scatter a few of the seeds below. The next year, sunflower seedlings spring up, and just as inevitably, I allow them to grow.
Season after season, the sunflowers revert to their wild state. Single huge blossoms are replaced by clusters of medium sized flowers. These wild sunflowers seem equally spectacular to me, a tribute to Mother Earth and the regenerative power of plants.
I painted this watercolor from a stalk of sunflowers gone wild. The golden flowers sparkle against a rainbow background.
Original watercolor by Kim Solga.
14 inches by 20 inches on Arches 140lb watercolor paper.

Original painting for sale: $375.
Please contact me for information on shipping costs (I recommend UPS insured delivery). If you wish to have me mat and frame the painting so it is ready to hang in your home or office, or to send as a gift, I am pleased to discuss the additional cost of framing, mat and frame options.