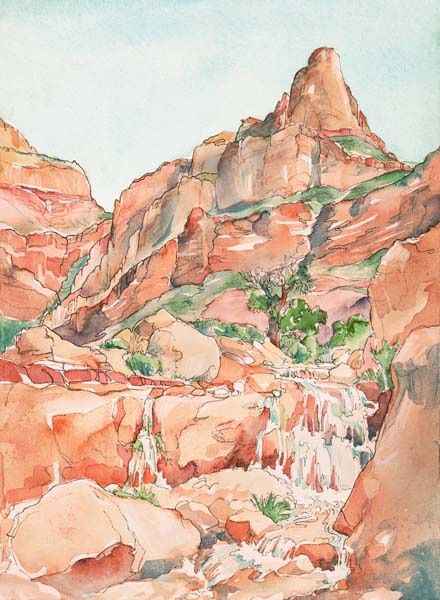 Click to view a larger image.
Rafting the Colorado River through the Grand Canyon is indeed the experience of a lifetime. If you ever get the opportunity to take this journey, do not hesitate. Not for a moment. Do whatever it takes to say "yes!"
After days spent floating awestruck through the most incredible landscape on the planet, you will camp each afternoon on remote river beaches. If the daylight and weather allow, you will be able to walk up many of these side canyons. Stone Creek is a particularly delightful hike following a sparkling stream higher and higher, each turn of the trail opening to new delights.
I painted this little waterfall at Stone Creek in the fall of 2013, about 2 miles up the side canyon from our riverside camp. I sat in the shade and enjoyed the music of trickling water as I worked.
11 inches by 14.5 inches on Arches 140lb cotton CP paper.
This painting is in private collection, but high quality prints are for sale. Click below to view two versions of this painting at my Etsy shop:
Please contact me for information on shipping, and on the additional and optional cost of framing, mat options and frame colors, if you would prefer to receive this painting ready to hang in your home or office, or to send it as a gift.