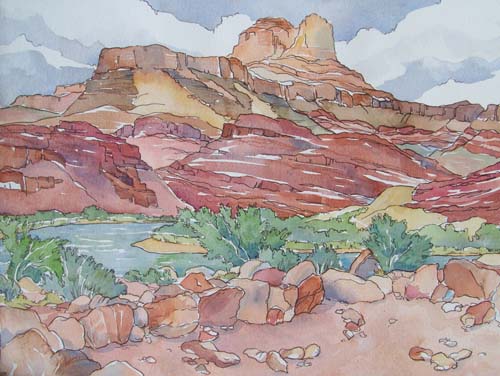 Click to view a larger image.
In the upper section of the Grand Canyon, a stretch of river known as Marble Canyon, the open sweep of land called Unkar Delta holds the largest concentration of ruins and artifacts in the Canyon. Ancient Native American people lived and farmed this land from A.D. 850 to A.D. 1200.  It was likely a summer camp, with reliable water from the river.  The stone foundations of their homes, and abundant pieces of broken pottery, are scattered across the landscape.
I sat next to an ancient stone foundation on a stormy day in 2009 and painted this scene.  My handy poncho provided cover as rain showers swept past.  The day ended with an incredible Canyon rainbow and this fine painting!
12 inches by 16 inches on Arches 140lb cotton CP paper.
This painting and high quality prints are for sale. Click below to view three versions of this painting at my Etsy shop:
Please contact me for information on shipping, and on the additional and optional cost of framing, mat options and frame colors, if you would prefer to receive this painting ready to hang in your home or office, or to send it as a gift.