Kiva at Mesa Verde, Spruce Tree House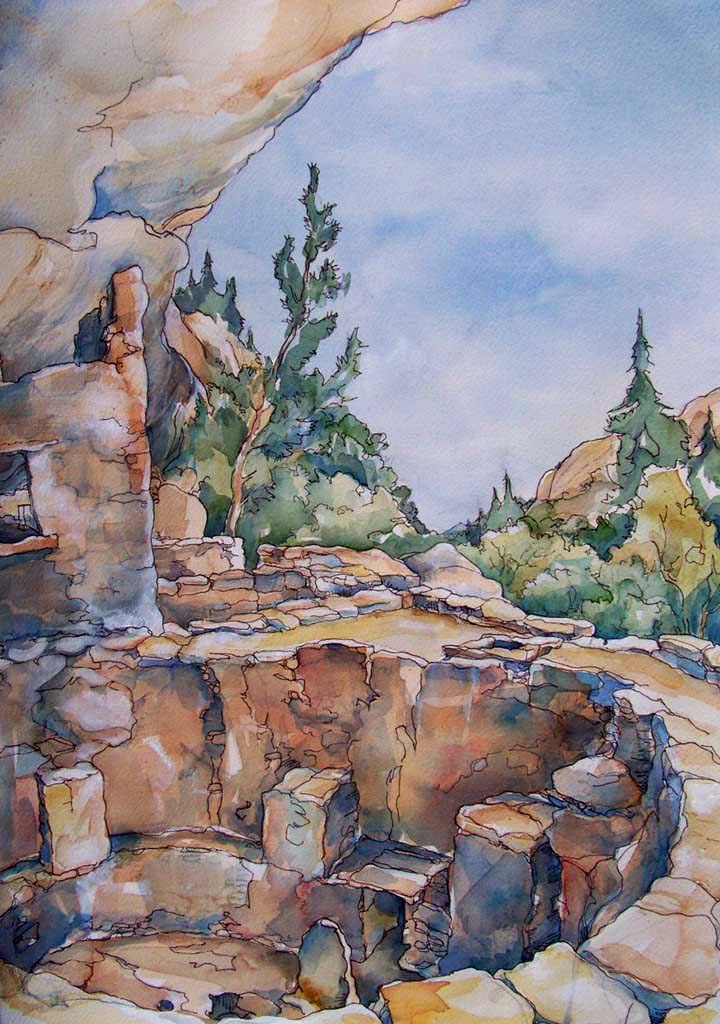 The Park Rangers allowed me to sit among the ancient stones of Spruce Tree House, painting the view down the canyon and the kiva before me, roofless, open to view, wonder and reverence.
The ancient puebloan people of the southwest a thousand years ago built incredible stone villages, often tucked into inaccessible ledges of cliff walls. The cliff dwellers.
The kiva was a circular, underground room, a meeting space for refuge and ritual. Originally a sturdy roof covered the kiva, paved over as a patio above. One entered the kiva through a doorway hole in the roof, down a wooden ladder into the round room beneath. A firepit, with a cleverly engineered ventilation shaft and deflector stone, provided light and heat in the cold winter months.
Behind the firepit is a small hole in the floor, the sipapu, believed to symbolize the place of emergence, where the legendary ancestors came up from the third world into the world in which we walk today.
Kiva at Mesa Verde is a large, colorful, original watercolor painted on location in Mesa Verde Colorado USA. The painting is enhanced with fine pen and ink work, chalk and charcoal. It is a tribute to the puebloan peoples, the ancestors and the tribes of today.
Plein air watercolor by Kim Solga.
12 inches by 20 inches on Arches 140lb paper.

Original painting for sale: $455 with $20 shipping added for USA delivery (international customers, please email me kim.solga@gmail.com for shipping cost to your location).  Click the button below to purchase by credit card using the secure Paypal system.  Your new painting will be shipped to you within a few days.
If you wish to have me mat and frame the painting so it is ready to hang in your home or office, or to send as a gift, I am pleased to discuss the additional cost of framing, mat and frame options.
Click an icon below to share this painting…as a pin on Pinterest, a post on Facebook, Google+, Tumblr, Twitter and more… Thanks for sharing my work with your friends!