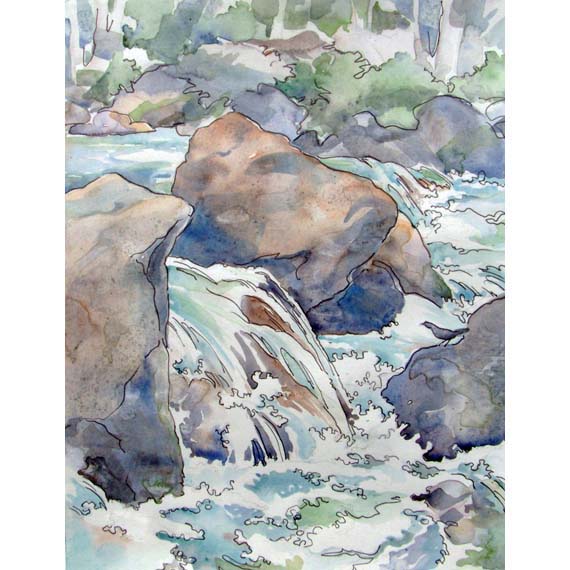 The little water bird called "Ouzel" made his way into my painting! I was working on this scene of a splashing creek on July 31 when an ouzel flew into the scene and perched for a moment about 3 feet from me, doing the tiny knee bends that inspire his common name, the dipper.
John Muir wrote eloquently about Mr. Ouzel. "He is a singularly joyous and lovable little fellow, about the size of a robin, clad in a plain waterproof suit of bluish gray, with a tinge of chocolate on the head and shoulders. In form he is about as smoothly plump and compact as a pebble that has been whirled in a pot-hole, the flowing contour of his body being interrupted only by his strong feet and bill, the crisp wing-tips, and the up-slanted wren-like tail.
"Among all the countless waterfalls I have met in the course of ten years' exploration in the Sierra, whether among the icy peaks, or warm foot-hills…not one was found without its Ouzel. No canyon is too cold for this little bird, none too lonely, provided it be rich in falling water. Find a fall, or cascade, or rushing rapid, anywhere upon a clear stream, and there you will surely find its complementary Ouzel, flitting about in the spray, diving in foaming eddies, whirling like a leaf among beaten foam-bells; ever vigorous and enthusiastic, yet self-contained, and neither seeking nor shunning your company."
– from The Mountains of California, by John Muir (1894)
This little painting on Canson natural white watercolor paper captures the magic of ouzel and his environment with cool blues, tans, aqua and green.
Plein air watercolor by Kim Solga.
8.5 inches by 11 inches on Arches 140lb paper.

Original painting for sale: $250.
Please contact me for information on shipping costs (I recommend UPS insured delivery). If you wish to have me mat and frame the painting so it is ready to hang in your home or office, or to send as a gift, I am pleased to discuss the additional cost of framing, mat and frame options.