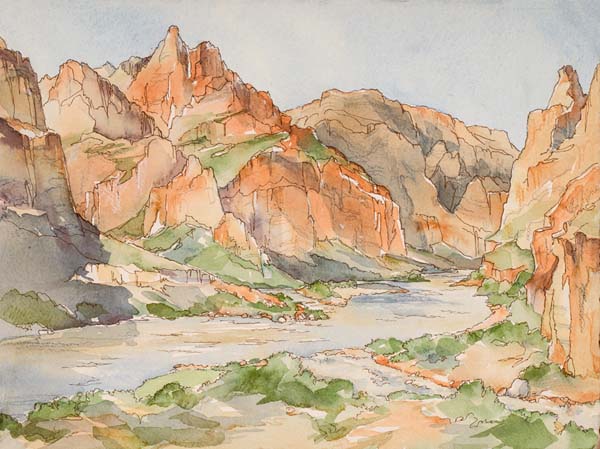 Click to view a larger image.
The Grand Canyon from riverside is natural beauty at its most dramatic!  Spectacular colors, sheer cliffs, layers of rock, the sparkle of light on water, the green of desert plants.
I hiked up from our camp at Parashant Canyon, as high as I could easily get carrying paper and painting materials, to the base of the cliff on river right.  There I sat through the morning, painting the scene below me, entertained by little birds in the cactus and mesquite.
11 inches by 14.5 inches on Arches 140lb cotton CP paper.
This painting is in private collection, but high quality prints are for sale. Click below to view two versions of this painting at my Etsy shop:
Please contact me for information on shipping, and on the additional and optional cost of framing, mat options and frame colors, if you would prefer to receive this painting ready to hang in your home or office, or to send it as a gift.