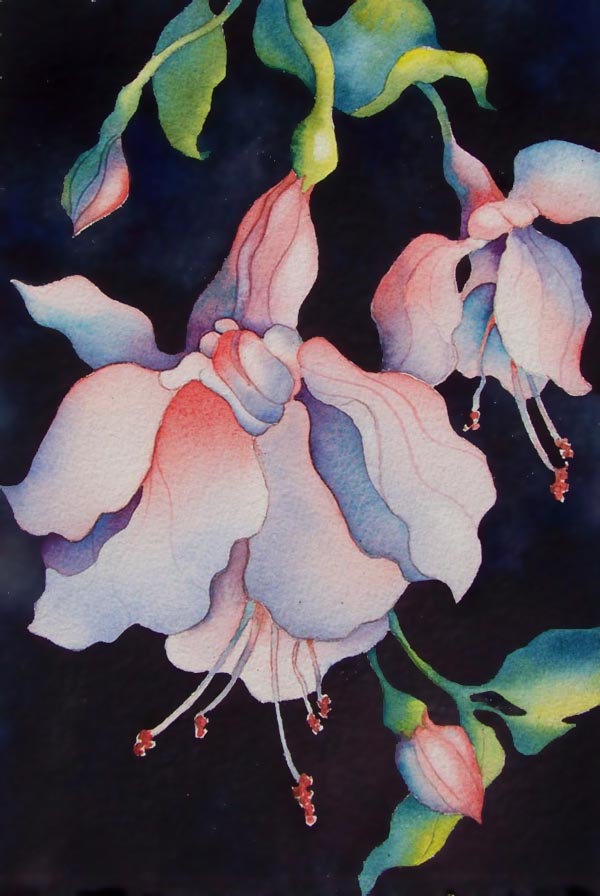 Pink and white fuchsia blossoms burst from deep green leaves and unopened buds, shimmering like jewels against an indigo background.
This painting captures the magic of these sweet blossoms in delicate rose and cobalt blue with suggestions of vibrant turquoise.
The painting, on super heavy handmade cotton paper, has a deckeled edge all around, perfect for float mounting when you frame the piece (a dramatic effect that makes the art appear to be hanging in space). The painting also can be matted and framed in traditional style – it's your choice.
Original watercolor by Kim Solga.
7.5 inches by 11.25 inches on Arches 300lb watercolor paper.

Original painting for sale: $125.
Please contact me for information on shipping costs (I recommend UPS insured delivery). If you wish to have me mat and frame the painting so it is ready to hang in your home or office, or to send as a gift, I am pleased to discuss the additional cost of framing, mat and frame options.