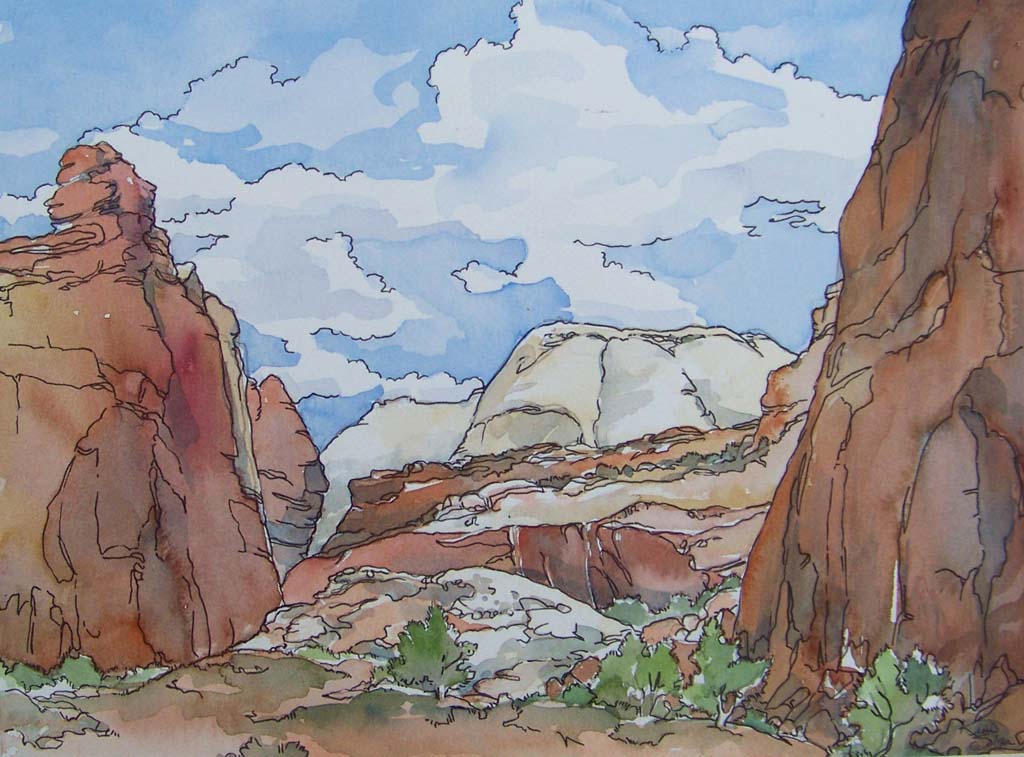 The slot canyons of the West, sculptured by wind and water over millions of years, are a fantasy world of beauty. Sandstone cliffs, arches and domes rise above rocky creekbeds, often with unexpected ruins and ancient Indian carvings hidden among the incredible cliffs.
This is one of my paintings featured at the Southern Utah Wilderness Alliance website.
I painted this watercolor at Capitol Reef National Park in Utah, fascinated by the canyon opening that beckoned me.  The painting took hours, moving to follow the shade of a friendly juniper tree. inally packing up the art stuff, we hiked into the scene, exploring deeper and deeper into the mystery of the desert landscape.
Plein air watercolor painted on location by Kim Solga.
11 inches by 16 inches on Arches 140lb paper.

Original painting for sale: $360
If you want the painting shipped to you, $25 covers USA delivery, with the painting packed flat and sent via insured Priority Mail. International customers, please email me kim.solga@gmail.comfor shipping cost to your location.
Click the button below to purchase the painting by credit card using the secure Paypal system.  I will then email you with an additional Paypal link for the exact amount for your personal shipping cost. You are also welcome to pick the painting up personally if you are in Mt. Shasta…no shipping required.
If you wish to have me mat and frame the painting so it is ready to hang in your home or office, or to send as a gift, I am pleased to discuss the additional cost of framing, mat and frame options.
Click an icon below to share this painting…as a pin on Pinterest, a post on Facebook, Google+, Tumblr, Twitter and more…