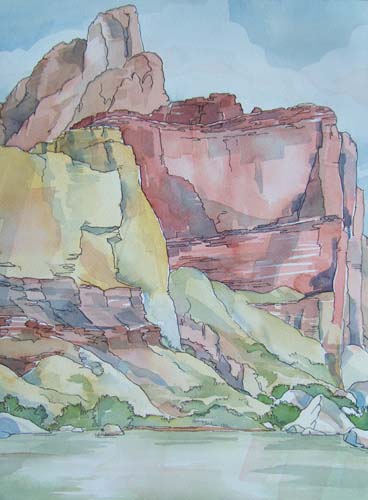 The Canyon walls are composed of layers of rock deposited 2 million years ago, then exposed by the erosive action of the Colorado River.
This painting captures a bit of the incredible color of the rock layers.  The distant butte is tan Kaibab and Cocoino sandstone.  Nearer cliffs are Supai Group rock and Redwall limestone (actually gray rock stained red by the Supai above).
At river level in this painting, Bright Angel Shale presents purple and jade green bands.
Watercolor by Kim Solga.
20 inches by 14 inches on Arches 140lb cotton CP paper.
Original painting for sale: $250.
Please contact me for information on shipping, and on the additional and optional cost of framing, mat options and frame colors, if you would prefer to receive this painting ready to hang in your home or office, or to send it as a gift.